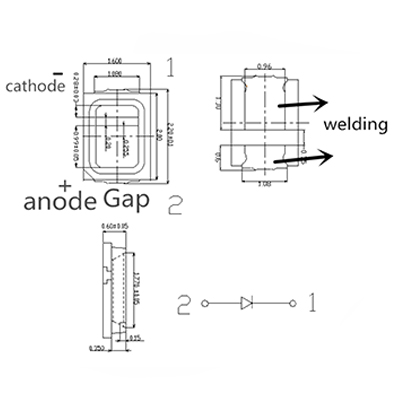 Brand:ARKTECH
Model: 2016IB05P2-YK
CCT:100000K
Lumen:45-50LM
Power:0.5W
Current:150MA
Voltage:3.0-3.2V
Degree:120
Raw material: Copper bracket/ pure gold wire
Size:2.0*1.6*0.6MM
If you need other SMD LED, please check our product categories.
Are SMD LEDs more energy-efficient compared to traditional LEDs?
SMD LED (surface-mounted devices) are more energy-efficient than traditional LED (light-emitting diodes). This is because SMD LEDs have been designed to be smaller and lighter than traditional LEDs, reducing the amount of power they need to operate. Additionally, SMD LED designs are more complex and efficient, resulting in a higher energy efficiency ratio. This type of LED has a higher luminous efficacy, meaning that it uses less energy than traditional LEDs to produce a given amount of light.

SMD LEDs also provide higher color rendering index (CRI) than traditional LEDs, meaning that they can produce more accurate and vibrant colors, while using less energy. Furthermore, they have a significantly larger viewing angle than traditional LEDs, allowing them to spread light more evenly in a given space.

Overall, SMD LEDs offer higher energy efficiency than traditional LEDs. This makes them more cost-effective and environmentally friendly in the long run, as they consume less energy to produce the same amount of light.

An Ultimate FAQ Guide:
1.About ice blue led lights warranty
We provide a warranty period of 2 years .
2.About ice blue led lights raw material procurement system
Our production process is closely monitored through an ERP system and MES system, ensuring the stability and traceability of our products.
3.About the scale of ice blue led lights factory
Our factory covers an area of 12000㎡, including a 600㎡ 10k class dust-free, anti-static workshop.
4.About ice blue led lights inventory
For normal items, we maintain a reasonable quantity in our inventory
5.About ice blue led lights patent
Over the years, we have dedicated significant resources to research and innovation, resulting in the acquisition of more than 24 patents. Our factory has been recognized as a high tech manufacturer in the Jiangsu province.
6.About ice blue led lights production equipment
Our factory comprises three production departments, housing a total of 12 production lines. We have equipped these lines with over 120 automatic machines from renowned brands such as ASM and Kaijo.
7.About ice blue led lights production capacity
We have the capacity to produce 100kk (100,000,000) pieces of LEDs per month.
8.About ice blue led lights production skills training
We require all our employees to undergo three months of training. Only after successfully passing a qualified test are they allowed to work on the production line. To further ensure the quality of our goods, we have implemented diagrams along the production line, providing clear instructions and guidelines. Additionally, our HD engineers conduct monthly training sessions to keep our team updated with the latest production techniques and practices.
9.About ice blue led lights payment method
We offer payment options such as Paypal, TT (Telegraphic Transfer), or LC (Letter of Credit).
10.About ice blue led lights origin
Our goods are sourced from Wuxi, China.
11.About ice blue led lights technology
Our team offers all-round technical support, including designing according to your requirements, selecting the best solutions based on cost and reliability, principle and LAY-OUT design, customizing special software, and conducting laboratory tests for certification requirements.
12.About ice blue led lights customization services
We welcome customization requests for our products.
13.About ice blue led lights MOQ
We accept orders for a minimum of 1 reel.